The SportCares Bursary aims to increase opportunities for children and youth from low-income families to participate in various programmes offered by ActiveSG Academies and Clubs (A&Cs).
Our aspiration through this initiative is to see SportCares Bursary recipients engage in a healthy lifestyle, learn a new sport, and build a sense of belonging in the community they live in.
Eligibility Criteria
Singapore Citizens and Permanent Residents are welcome to apply.
Children and youth aged 3 – 16 years old.
The Bursary recipient and/or applicant must be currently receiving financial assistance from a government or non-profit organisation. Please refer to the table below for examples of eligible financial assistance schemes.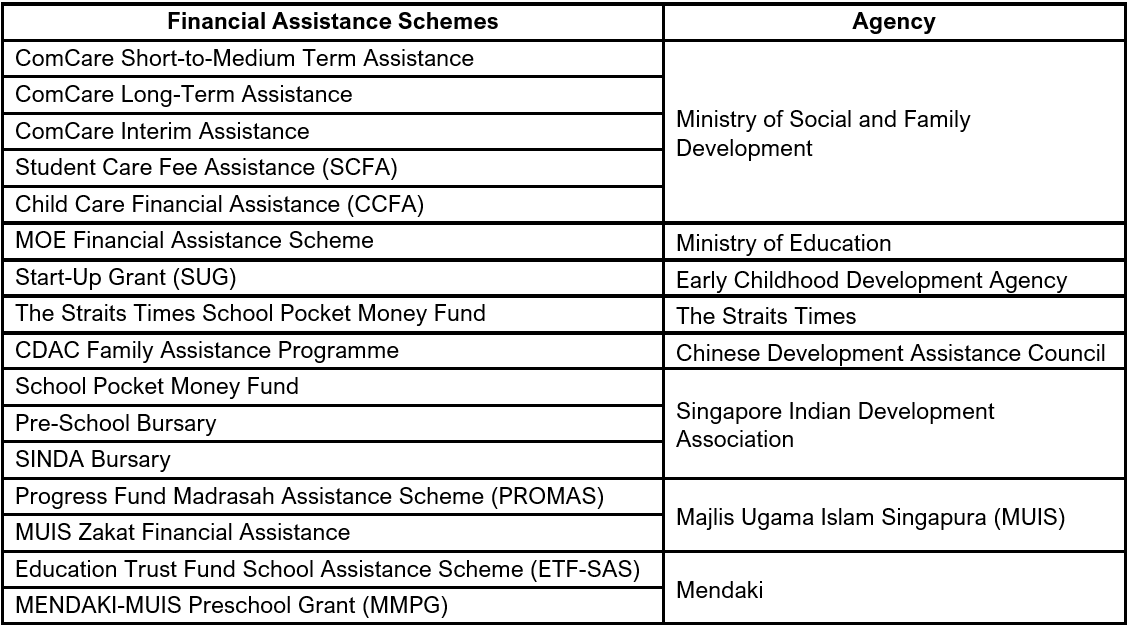 Bursary Coverage
The bursary will cover seasonal participation fees for ten (10) ActiveSG Academies & Clubs (A&C): Athletics, Basketball, Football, Hockey, Tennis, Volleyball, Water Polo, Canoe, Gymnastics, and Table Tennis.
Expectations of Bursary Recipients
All SportCares Bursary Recipients are expected to attend at least 70% of the training sessions per season and display sportsmanship conduct during all A&C related sessions. Failure to meet the attendance requirement of 70% per season may result in the suspension of the Bursary.
Bursary Application
To start your application process, click here.
Please note the following before filling up the application form:
Head over to the ActiveSG website to find out about the venues, session details (dates and timing) for the various A&Cs before applying. You will be asked to indicate your preferred venue, session day and time on the application form.
Applicants must be current recipients of a financial assistance scheme. For verification, you will be asked to submit proof of the financial assistance scheme. This submission can be in the form of a confirmation letter or email from the relevant agency and you are required to upload it in PDF or JPEG format.
If your application is successful, you will be contacted by the respective A&C with the administrative details at least two weeks before the start of the A&C season.